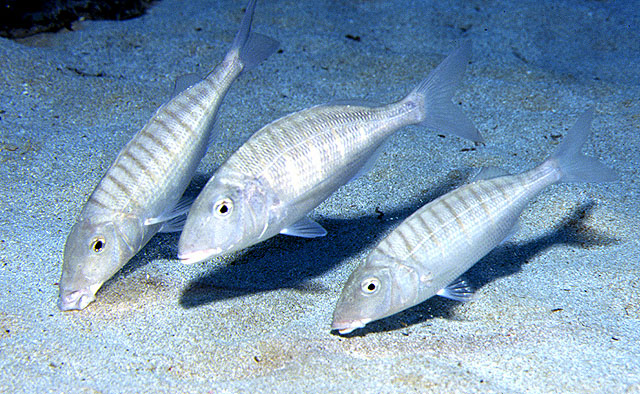 photo by Patzner, R.

Sparidae (Porgies)
55 cm TL (male/unsexed); max. reported age: 12 years
demersal; depth range 0 - 150 m
Eastern Atlantic: Bay of Biscay, Strait of Gibraltar and Mediterranean; southward to Cape of Good Hope, South Africa; around the Canary and Cape Verde Islands (Ref. 3688); and Madeira Is (Ref. 74541). Western Indian Ocean: southern Mozambique (Ref. 3688). Not found in tropical east Africa (Ref. 3198), Red Sea (Ref. 84159) and Black Sea (Ref. 4781, 112870).
Dorsal spines (total): 11-11; Dorsal soft rays (total): 12-13; Anal spines: 3-3; Anal soft rays: 10-11
Found on the shelf, over sandy and muddy bottoms as well as seagrass-beds and estuaries. Gregarious, sometimes forming sizeable schools. Feeds on worms, mollusks and small crustaceans. Protandric hermaphrodite (Ref. 3688). Flesh excellent (Ref. 3198); sold fresh and dried.
(Ref. 115185)
harmless
This is the only species of genus Lithognathus that is recognized in this country (Ref. 45522). Mainly caught with traps throughout the year at depths ranging between 10 and 100 m (Ref. 45522).
Source and more info: www.fishbase.org. For personal, classroom, and other internal use only. Not for publication.
Page created by Jen, 05.08.02, php script by kbanasihan 06/09/2010 , last modified by
sortiz
, 10/02/17