Upload your photos and videos

Google image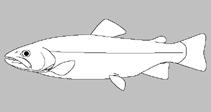 No image available for this species;
drawing shows typical species in Salmonidae.
Environment: milieu / climate zone / depth range / distribution range

Ecología
Distribución Países | Áreas FAO | Ecosistemas |

Ocurrencias, apariciones

| Point map |

Introducciones

|

Faunafri
Europe: Lakes in Austria. Probably extinct (Ref. 13696). Extinct (Ref. 59043). Doubtful species without type material.

Tamaño / Peso / Age

Lacustrine species, not reported to migrate to tributaries. Feeds on fish. (Ref. 59043).
Life cycle and mating behavior

Madurez

|

Reproducción

|

Puesta

|

Huevos

|

Fecundidad

|

Larva
Kottelat, M., 1997. European freshwater fishes. An heuristic checklist of the freshwater fishes of Europe (exclusive of former USSR), with an introduction for non-systematists and comments on nomenclature and conservation. Biologia, Bratislava, 52/Suppl. 5:1-271. (Ref. 13696)

IUCN Red List Status (Ref. 124695)

Human uses
Herramientas

Special reports

Download XML

Fuentes de Internet

Estimates based on models