muatnaik fotos/gambar dan video

imej Google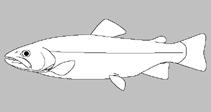 No image available for this species;
drawing shows typical species in Salmonidae.
Environment: milieu / climate zone / depth range / distribution range

Ekologi
Europe: Lakes in Austria. Probably extinct (Ref. 13696). Extinct (Ref. 59043). Doubtful species without type material.

Size / Weight / umur

Lacustrine species, not reported to migrate to tributaries. Feeds on fish. (Ref. 59043).
Life cycle and mating behavior

Kematangan

|

Pemijahan

|

telur-telur

|

Fecundity

|

Larva
Kottelat, M., 1997. European freshwater fishes. An heuristic checklist of the freshwater fishes of Europe (exclusive of former USSR), with an introduction for non-systematists and comments on nomenclature and conservation. Biologia, Bratislava, 52/Suppl. 5:1-271. (Ref. 13696)

Status IUCN Red List (Ref. 124695)

penggunaan manusia
Alat, peralatan

laporan khas

muat turun XML

Sumber internet

Estimates based on models