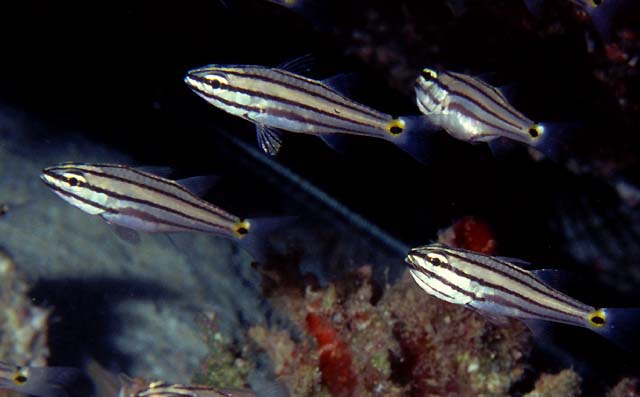 photo by Field, R.

Apogonidae (Cardinalfishes), subfamily: Apogoninae
8 cm TL (male/unsexed)
demersal; marine; depth range 1 - 10 m
Western Indian Ocean: Red Sea, Gulf of Oman, and the Persian Gulf.
Color in life silvery gray with 4 black stripes. 5th stripe runs along anal-fin base, continues anteriorly to pelvic-fin base, at which point it curves upward to reach in front of pectoral-fin base. The part of this stripe anterior to anal-fin base is often indistinct. A black oval spot at middle of caudal peduncle encircled by a yellow area. A distinct black spot on dorsal surface of caudal peduncle. Area between yellow pigment and this spot appears as distinct white mark. Fins pale (Ref 8525).
Common in shallow protected water, sheltering among the spines of Diadema sea-urchins in groups of up to about 30 individuals (number depends on the size of the urchin and the length of the fish).
Not Evaluated (N.E.) Ref. (124695)
harmless
Based on Photo by J.E. Randall. Nuweiba. Remark: N of Nuweiba.
Source and more info: www.fishbase.org. For personal, classroom, and other internal use only. Not for publication.
Page created by Jen, 05.08.02, php script by kbanasihan 06/09/2010 , last modified by
sortiz
, 10/02/17