Siganus uspi Gawel & Woodland, 1974
Bicolored foxface
nuqa roro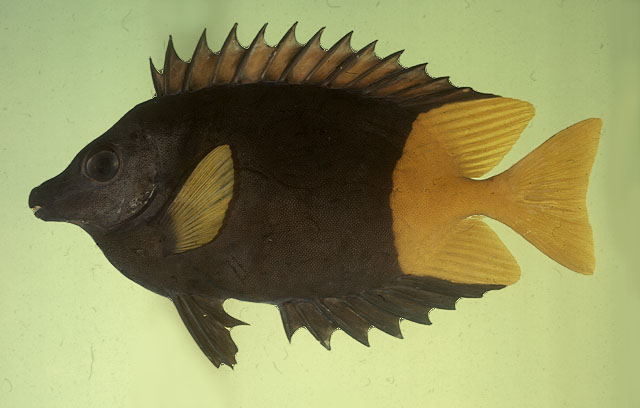 photo by Randall, J.E.

Siganidae (Rabbitfishes)
24 cm TL (male/unsexed)
reef-associated
Western Pacific: endemic to Fiji, with strays recorded from New Caledonia.
Dorsal spines (total): 13-13; Dorsal soft rays (total): 10-10; Anal spines: 7-7; Anal soft rays: 9-9; Vertebrae: 23-23. Color dark purplish brown except pectoral fins, soft portions of dorsal and anal fins, caudal fin, and posterior part of body; demarcation of 2 colors is sharp. Preopercular angle 110°-114°; strong overlapping scales cover cheeks, 9-10 rows deep below center of orbit; midline of thorax fully scaled. Spines stout, pungent and venomous. Snout slightly shorter and less tubular, less concave above the nostrils. Caudal fin slightly incised.
Found among hard corals at the faces of drop-offs at reef edges or in deep pools inside reef crests. Juveniles form schools, adults occur in pairs. Feeds on seaweeds (Ref. 9813).
Near Threatened (NT); Date assessed:

12 March 2015

Ref. (120744)
venomous
Source and more info: www.fishbase.org. For personal, classroom, and other internal use only. Not for publication.
Page created by Jen, 05.08.02, php script by kbanasihan 06/09/2010 , last modified by
sortiz
, 10/02/17