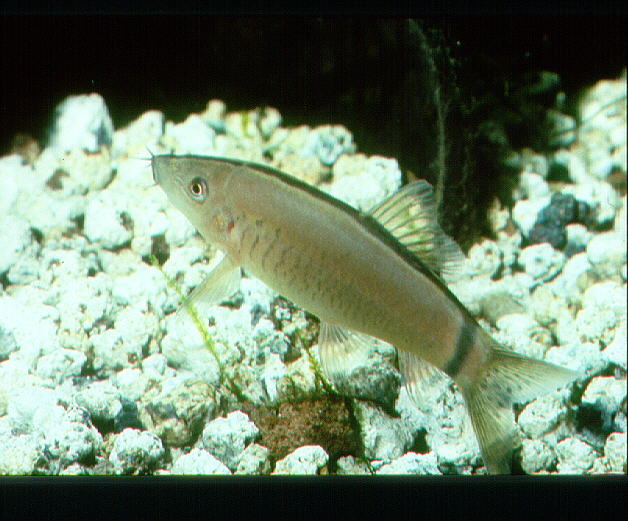 photo by Ott, G.

Cobitidae (Loaches), subfamily: Botiinae
10 cm TL (male/unsexed)
demersal; pH range: 6 - 8; dH range: 5 - 12
Asia: Mekong, Chao Phraya and Meklong basins, and peninsular Thailand.
Dorsal soft rays (total): 12-13; Anal soft rays: 9-10; Vertebrae: 28-30. Has 7-9 branched dorsal-fin rays; a mid-dorsal stripe from head to tail, extending ventrally as vertical bar on caudal peduncle; erect ethmoid spine perpendicular to snout when viewed from above; large mental lobe; body golden brown, sometimes with a series of narrow bars in young individuals (Ref. 12693); a few vertical dark vermiculations on flank; few black dots on caudal fin (Ref. 43281).
Occurs in medium to large-sized rivers (Ref. 12975). Inhabits standing and flowing waters. Found in crevices in rocks or excavates burrows under rocks or logs (Ref. 12693), usually in sandy habitats (Ref. 43281). Feeds on mollusks and benthic invertebrates. Oviparous (Ref. 205). Probably moves into temporarily flooded areas during high water levels. Young of the year return to rivers in November and December in the lower Mekong. Commonly seen in aquarium trade (Ref. 12693).
Least Concern (LC); Date assessed:

15 February 2011

Ref. (119314)
harmless
Source and more info: www.fishbase.org. For personal, classroom, and other internal use only. Not for publication.
Page created by Jen, 05.08.02, php script by kbanasihan 06/09/2010 , last modified by
sortiz
, 10/02/17