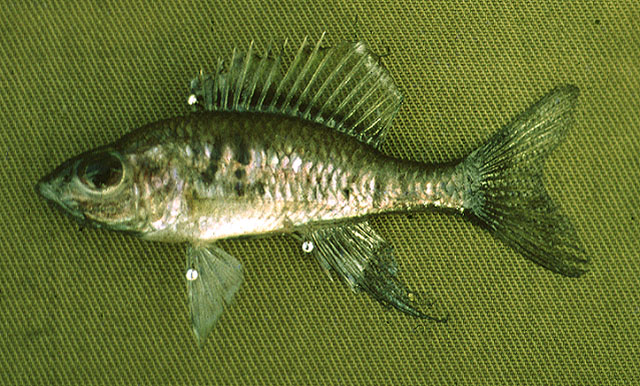 photo by de Vos, L.

Cichlidae (Cichlids), subfamily: Pseudocrenilabrinae
6.9 cm SL (male/unsexed)
demersal; depth range 10 - 60 m,
Africa: endemic to Lake Tanganyika, known from the rocky coast in the northwestern part of the lake; resticted and local distribution (Ref. 27631).
Dorsal spines (total): 10-10; Dorsal soft rays (total): 10-12; Anal spines: 3-3; Anal soft rays: 7-8; Vertebrae: 28-29
Occurs in the sublittoral and benthic zone of rocky shores; caught between 10 and 60 m deep; remnants of shrimps found in stomach; indications of movements from deep to shallow water during the night to feed or avoid predation (Ref. 27631).
Data deficient (DD); Date assessed:

31 January 2006

Ref. (119314)
harmless
Source and more info: www.fishbase.org. For personal, classroom, and other internal use only. Not for publication.
Page created by Jen, 05.08.02, php script by kbanasihan 06/09/2010 , last modified by
sortiz
, 10/02/17