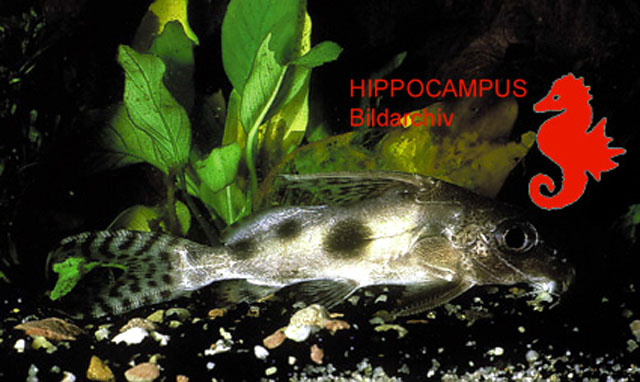 photo by Hippocampus-Bildarchiv

Mochokidae (Squeakers or upside-down catfishes)
20.2 cm TL (male/unsexed)
benthopelagic; pH range: 6.19999980926514 - 7.19999980926514; dH range: 5 - 15
Africa: middle and upper Congo River basin (Ref. 78218, 82238) including Pool Malebo (= Stanley Pool) and drainages of the Kasai and Ubangi, but not in the central basin, High Katanga and Luapula-Mweru (Ref. 82238).
Oviparous (Ref. 205).
Least Concern (LC); Date assessed:

16 February 2009

Ref. (120744)
harmless
Source and more info: www.fishbase.org. For personal, classroom, and other internal use only. Not for publication.
Page created by Jen, 05.08.02, php script by kbanasihan 06/09/2010 , last modified by
sortiz
, 10/02/17