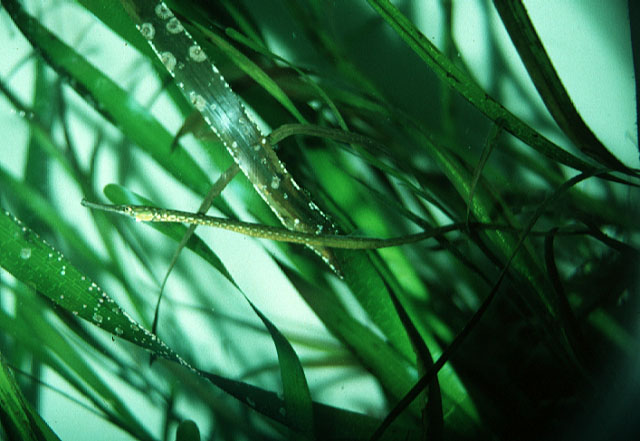 photo by Gotshall, D.W.

Syngnathidae (Pipefishes and seahorses), subfamily: Syngnathinae
32.5 cm TL (male/unsexed); 38.5 cm TL (female)
demersal; depth range 0 - 5 m
Eastern Pacific: Sitka, Alaska to southern Baja California in Mexico; the northern population ranges from Alaska to Monterey Bay, southern population from Morro Bay southward.
Common in eelgrass of bays and estuaries, sometimes taken in shallow offshore waters (Ref. 5316). Feeds on crustaceans (Ref. 6885). Females larger than males (R.C. de Graaf, pers. Comm., 2001; Ref. 93899). Ovoviviparous (Ref. 205). The male carries the eggs in a brood pouch which is found under the tail (Ref. 205).
Least Concern (LC); Date assessed:

30 April 2014

Ref. (120744)
harmless
Source and more info: www.fishbase.org. For personal, classroom, and other internal use only. Not for publication.
Page created by Jen, 05.08.02, php script by kbanasihan 06/09/2010 , last modified by
sortiz
, 10/02/17