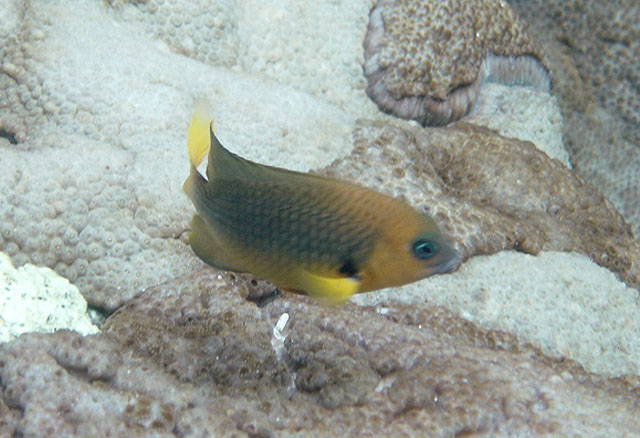 photo by Vaske Jr., T.

Pomacentridae (Damselfishes), subfamily: Pomacentrinae
9 cm SL (male/unsexed)
demersal; depth range 0 - 60 m, non-migratory
Eastern Central Atlantic: Saint Paul's Rocks.
Dorsal spines (total): 12-12; Dorsal soft rays (total): 14-16; Anal spines: 2-2; Anal soft rays: 13-14
Adults occur in rock pools, from the surface to depths of at least 50 m (Ref. 13121, 58184), usually around rocks and rubble (Ref. 13121). Oviparous, distinct pairing during breeding (Ref. 205). Eggs are demersal and adhere to the substrate (Ref. 205). Males guard and aerate the eggs (Ref. 205).
Least Concern (LC); Date assessed:

16 November 2010

Ref. (120744)
harmless
Source and more info: www.fishbase.org. For personal, classroom, and other internal use only. Not for publication.
Page created by Jen, 05.08.02, php script by kbanasihan 06/09/2010 , last modified by
sortiz
, 10/02/17