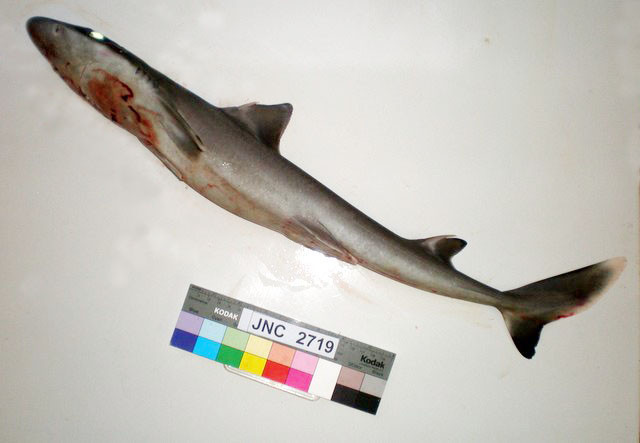 photo by Justine, J.-L.

Squalidae (Dogfish sharks)
75 cm TL (female)
bathydemersal; marine; depth range 320 - 340 m
Western Central Pacific: New Caledonia.
Dorsal spines (total): 2-2; Dorsal soft rays (total): 0-0; Anal spines: 0-0; Anal soft rays: 0-0. Conspicuous black tips on dorsal fins, black dorsal caudal margin, black ventral caudal lobe (Ref. 247).
Found on the insular slopes (Ref. 247). Feeds on lanternfishes, boarfishes, barracudinas, and flatheads (Ref. 247). Probably ovoviviparous (Ref. 247). Defends themselves from their captors by whipping their bodies and long second dorsal spines (Ref. 247).
Data deficient (DD); Date assessed:

20 June 2017

Ref. (124695)
harmless
Source and more info: www.fishbase.org. For personal, classroom, and other internal use only. Not for publication.
Page created by Jen, 05.08.02, php script by kbanasihan 06/09/2010 , last modified by
sortiz
, 10/02/17