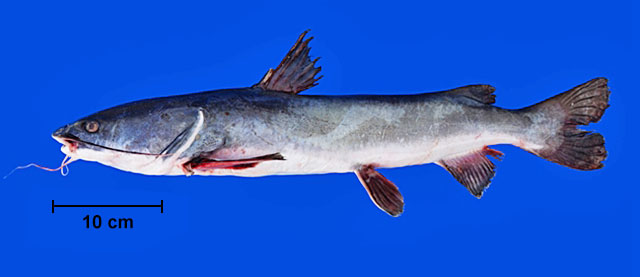 photo by Barbosa, J.M./M. Deda

Ariidae (Sea catfishes), subfamily: Ariinae
97 cm TL (male/unsexed); max.weight: 30 kg; max. reported age: 5 years
demersal; freshwater; brackish
South America: Gulf of Paria to Pernambuco, Brazil.
Dorsal spines (total): 1-1. The head is rounded and flattened on the upper part. The mouth is slightly inferior. It has 3 pairs of barbels (1 pair of maxillary barbels and 2 pairs of mandibular barbels. The cephalic surface is very rough (Ref. 35381).
Confined chiefly to turbid waters in estuaries and the lower parts of rivers. Its delicate flesh is highly valued (Ref. 27188). Two annual cycles of slower growth are know during the two dry seasons (March and August to November). Probably has a short life span. In the beginning of reproduction, the male's mouth changes to function as a egg repository (buccal incubation). The female lays down her eggs in a sandy depression, then after fertilization, the male puts the eggs into its mouth which is provided with ventilation until hatching. Eggs diameter is about 2 mm and its number varies from 100 to 165 per female. Feeds mainly on crustaceans (Ref. 35381). Marketed fresh and salted.
Least Concern (LC); Date assessed:

28 January 2009

Ref. (124695)
traumatogenic
Source and more info: www.fishbase.org. For personal, classroom, and other internal use only. Not for publication.
Page created by Jen, 05.08.02, php script by kbanasihan 06/09/2010 , last modified by
sortiz
, 10/02/17