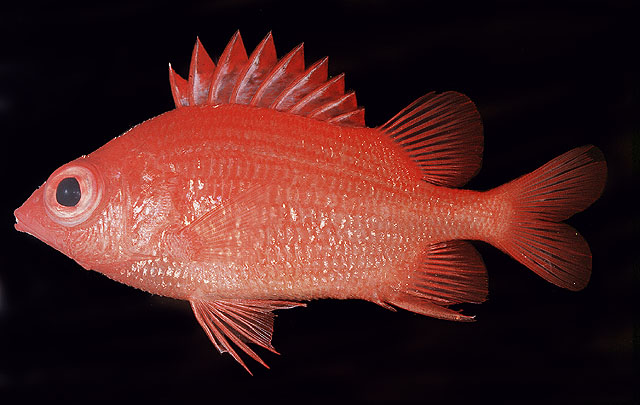 photo by Randall, J.E.

Holocentridae (Squirrelfishes, soldierfishes), subfamily: Holocentrinae
7.65 cm SL (male/unsexed)
reef-associated; marine; depth range 1 - 34 m
Indo-Pacific.
Dorsal spines (total): 11-11; Dorsal soft rays (total): 12-14; Anal spines: 4-4; Anal soft rays: 9-9; Vertebrae: 27-27. Body red with a very narrow darker red stripe separating longitudinal scale rows; spinous part of dorsal fin red; mottled faintly with white, the outer part of each membrane deeper red; remaining fins with red rays and clear membranes. 4-5 oblique rows of scales on cheek. Body depth 2.3-2.6 in SL; head length 2.5-2.6 in SL. Rounded anterior end of nasal bone; moderately large and spineless nasal fossa; surface of nasal bone between fossa and edge of premaxillary groove with a prominent retrorse spine; median edge of nasal bone (margin of premaxillary groove) with a small recumbent retrorse spine; longest dorsal spine 2.05-2.75 in head length; third anal spine 1.5-1.6 in head length; broadly rounded caudal fin lobes (Ref. 27370). Strongly serrated scales (Ref. 37816).
Inhabits steep outer reef slopes (Ref. 37816). Benthopelagic (Ref. 58302). Secretive (Ref. 37816). Cryptic, never seen during day, remain close to reef shelter at night (Ref 90102).
Least Concern (LC); Date assessed:

04 March 2015

Ref. (124695)
harmless
Source and more info: www.fishbase.org. For personal, classroom, and other internal use only. Not for publication.
Page created by Jen, 05.08.02, php script by kbanasihan 06/09/2010 , last modified by
sortiz
, 10/02/17