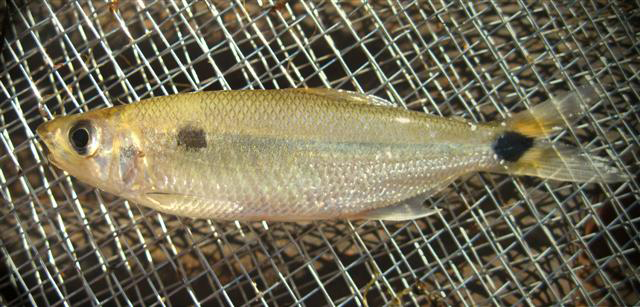 photo by Andrade, M.C.

Characidae (Characins; tetras), subfamily: Exodontinae
12 cm SL (male/unsexed)
pelagic; freshwater; pH range: 6 - 6.80000019073486; dH range: 8 - 15
South America: Amazonas basin, Tocantins basin, and rivers of Guianas.
Relatively rare. Encountered in creeks with rapidly flowing water over a sandy substrate. The particular form of its dentition allows it to feed on the scales of the other fish (Ref. 12225). See color photo in Ref. 12225.
Not Evaluated (N.E.) Ref. (124695)
harmless
Source and more info: www.fishbase.org. For personal, classroom, and other internal use only. Not for publication.
Page created by Jen, 05.08.02, php script by kbanasihan 06/09/2010 , last modified by
sortiz
, 10/02/17