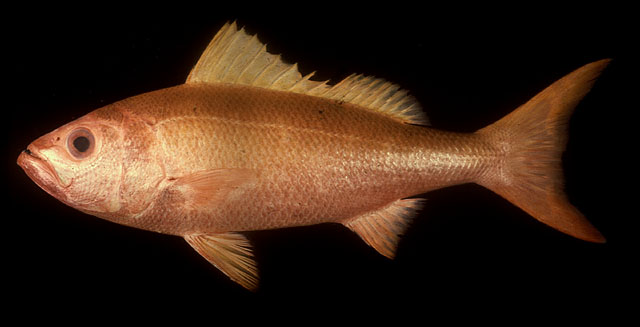 photo by Randall, J.E.

Lutjanidae (Snappers), subfamily: Etelinae
50 cm SL (male/unsexed)
benthopelagic; depth range 150 - 300 m
Pacific Ocean: known only from the Hawaiian Islands, Cook Islands, New Caledonia, and Okinawa, Japan but probably widespread in the area. Recently recorded from Tonga (Ref. 53797). Eastern Indian Ocean: Scott Reefs, northwestern Australia (Ref. 82665).
Dorsal spines (total): 10-10; Dorsal soft rays (total): 12-12; Anal spines: 3-3; Anal soft rays: 9-9. Head blunt. Interorbital space flat. Eye large. Preorbital bone relatively narrow. Snout short. Lower jaw protruding. Pectoral fins short, not reaching level of anus. Lower lobe of caudal fin with some rays excessively produced and filamentous in young. Scale rows on back parallel to lateral line. Overall color rosy red with a yellowish tinge; the dorsal fin grayish, the outer edge of its spinous portion black; the outer edge of the pelvic fins also black.
Adults are found on rocky bottoms in relatively deep water (Ref. 55). Marketed fresh (Ref. 55).
Least Concern (LC); Date assessed:

05 March 2015

Ref. (120744)
harmless
Source and more info: www.fishbase.org. For personal, classroom, and other internal use only. Not for publication.
Page created by Jen, 05.08.02, php script by kbanasihan 06/09/2010 , last modified by
sortiz
, 10/02/17