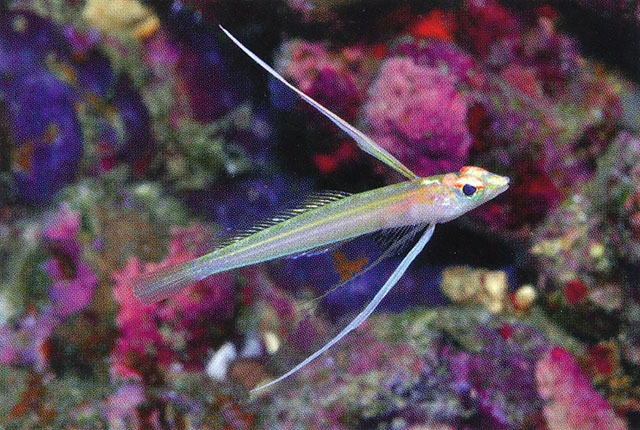 photo by Allen, G.R.

Percophidae (Duckbills), subfamily: Hemerocoetinae
2.9 cm SL (male/unsexed)
reef-associated; depth range 70 - 75 m
Western Pacific: Indonesia.
Dorsal spines (total): 3-3; Dorsal soft rays (total): 22-23; Anal spines: 1-1; Anal soft rays: 26-26; Vertebrae: 38-38. Description: Characterized by mainly bluish white body color with yellow markings on head and along back; pelvic fins of both sexes elongate; whitish dorsal fin of male; black dorsal fin of female; dorsal rays III+22-23; anal rays I,26; pectoral rays 17; lateral line scales 38; scale rows between dorsal and anal fins 12-13; first dorsal fin on head, behind level of pelvic fins, composed of three spines; extremely elongate pelvic fins in both sexes, 70-78% of SL in adult; cycloid scales on body, absent on head; vertebrae 38 (Ref. 90102).
Found at base of steep coral wall on relatively flat bottom covered with coarse white, coralline sand and exposed to moderate currents in 70-75 m (Ref. 90102).
Least Concern (LC); Date assessed:

13 March 2015

Ref. (120744)
harmless
Source and more info: www.fishbase.org. For personal, classroom, and other internal use only. Not for publication.
Page created by Jen, 05.08.02, php script by kbanasihan 06/09/2010 , last modified by
sortiz
, 10/02/17