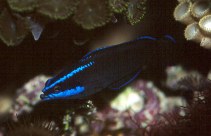 photo by Fenner, R.

Family:
Pseudochromidae (Dottybacks), subfamily: Pseudochrominae
Max. size:
5.5 cm TL (male/unsexed)
Environment:
reef-associated; marine; depth range 2 - 60 m
Distribution:
Western Indian Ocean: Red Sea.
Diagnosis:
Biology:
A common inhabitant of lagoon and seaward reefs. Found among corals. Has been reared in captivity (Ref. 35413).
IUCN Red List Status:
Least Concern (LC); Date assessed:

13 August 2019

Ref. (126983)
Threat to humans:
harmless




Source and more info: www.fishbase.org. For personal, classroom, and other internal use only. Not for publication.