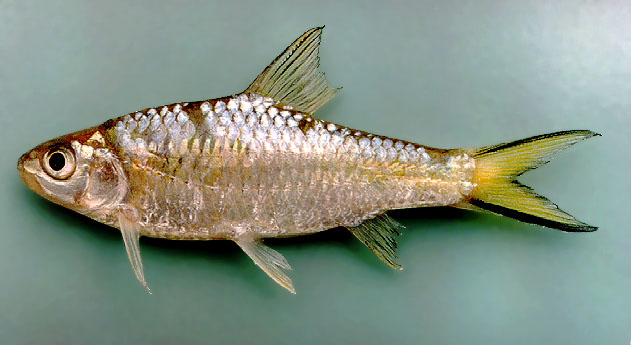 photo by Warren, T.

Cyprinidae (Minnows or carps), subfamily: Cyprininae
benthopelagic; freshwater, potamodromous
Asia: apparently endemic to an area south of Hue, Viet Nam.
Caudal fin very pale yellow (live specimens), with dark upper and lower margins; specimens at least 6 cm SL with well developed breeding tubercles on lower half of the posterior part of body; last simple dorsal fin ray slender, with a very weak serration along its posterior margin (Ref. 36949).
Endangered (EN); Date assessed:

04 September 2010

(A2ac) Ref. (123251)
harmless
Source and more info: www.fishbase.org. For personal, classroom, and other internal use only. Not for publication.
Page created by Jen, 05.08.02, php script by kbanasihan 06/09/2010 , last modified by
sortiz
, 10/02/17