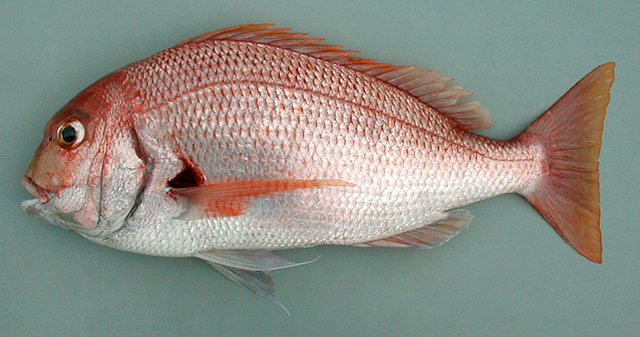 photo by Cambraia Duarte, P.M.N. (c)ImagDOP

Sparidae (Porgies)
75 cm TL (male/unsexed); max.weight: 5,550.0 g
benthopelagic; depth range - 200 m
Eastern Atlantic: Senegal to Angola.
Adults Inhabit hard (rock and rubble), sandy or muddy bottoms on the continental shelf and the upper slope to about 200 m depth, but not often descending beyond 150 m. The young found nearer to the coast than the adults. Feed on mollusks and fish (Ref. 3688). Important foodfish.
Least Concern (LC); Date assessed:

30 March 2011

Ref. (120744)
harmless
Source and more info: www.fishbase.org. For personal, classroom, and other internal use only. Not for publication.
Page created by Jen, 05.08.02, php script by kbanasihan 06/09/2010 , last modified by
sortiz
, 10/02/17