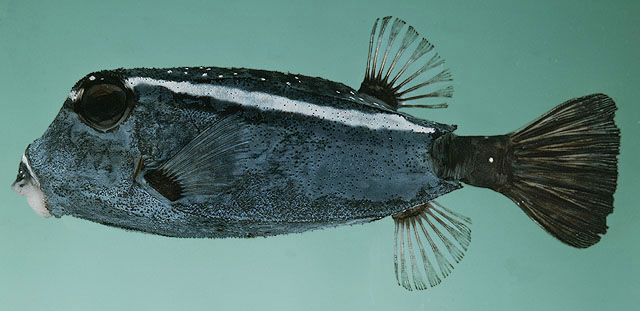 photo by Randall, J.E.

Ostraciidae (Boxfishes)
11 cm TL (male/unsexed)
reef-associated; marine; depth range 15 - 30 m
Western Indian Ocean: Mauritius (Ref. 9710) and Reunion (Ref. 53568).
A secretive species found in holes and crevices in rocky seaward reefs (Ref. 9710).
Not Evaluated (N.E.) Ref. (124695)
harmless
Source and more info: www.fishbase.org. For personal, classroom, and other internal use only. Not for publication.
Page created by Jen, 05.08.02, php script by kbanasihan 06/09/2010 , last modified by
sortiz
, 10/02/17