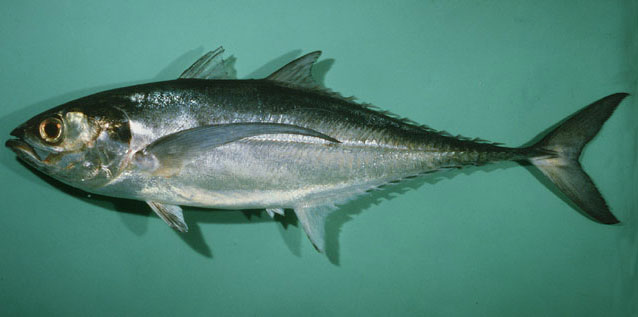 photo by Randall, J.E.

Carangidae (Jacks and pompanos), subfamily: Caranginae
80 cm TL (male/unsexed); max.weight: 4,000.0 g
reef-associated; depth range 20 - 100 m
Indo-West Pacific: East Africa to Japan and Australia.
Dorsal spines (total): 9-9; Dorsal soft rays (total): 18-20; Anal spines: 3-3; Anal soft rays: 16-17. Description: Bluish grey to green dorsally; shading to silvery on side and belly; dark fins. Opercle with large black spot on upper rear edge (Ref. 2334). Body elongate and subcylindrical, slightly compressed; caudal peduncle strongly compressed with distinct median keel; breast scaleless ventrally (Ref. 90102). LL scutes 51-59, strong and very large. Anal fin with 2 detached spines (Ref. 2334). Numerous dorsal and anal finlets are distinct (Ref. 37816). Adipose eyelid completely covering eye except for vertical slit at middle of pupil (Ref. 90102).
Adults are primarily oceanic, pelagic schooling species rarely seen on reefs (Ref. 48635, 90102). They feed mainly on fishes (Ref. 5213). Generally marketed fresh (Ref. 5284).
Least Concern (LC); Date assessed:

09 March 2015

Ref. (119314)
harmless
Source and more info: www.fishbase.org. For personal, classroom, and other internal use only. Not for publication.
Page created by Jen, 05.08.02, php script by kbanasihan 06/09/2010 , last modified by
sortiz
, 10/02/17