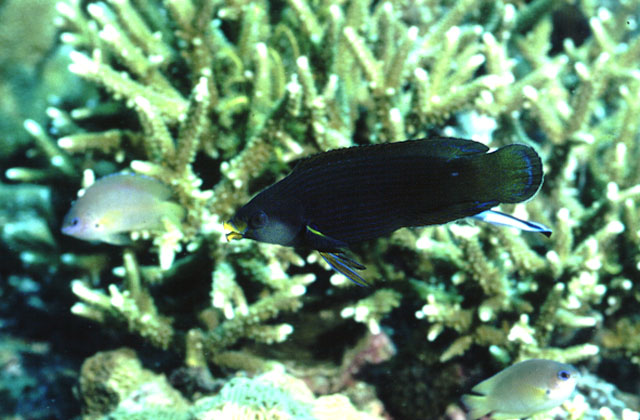 photo by Cook, D.C.

Labridae (Wrasses)
17.5 cm TL (male/unsexed)
reef-associated; depth range 0 - 20 m
Indo-Pacific: East Africa to Micronesia and Samoa.
Dorsal spines (total): 9-9; Dorsal soft rays (total): 11-12; Anal spines: 3-3; Anal soft rays: 10-11. Color in life: juveniles brown with 2 bluish white stripes on body, the lateral stripe disappearing with increase in size; female yellowish brown, stripes dull and faint; male color more intensified and bright than female color, a large yellow area beneath and above the pectoral fin base. Yellow lips thick and fleshy, forming a short tube when mouth is closed. Head entirely scaled except for sheath over base of upper lip, preorbital, and chin. Lacks teeth in the upper jaw between the two anterior pairs of canines and the large canine in each corner (Ref. 1602).
Inhabits shallow lagoon and semi-protected seaward reefs with high coral cover (Ref. 9710). Found near branching corals and feeds on its coral polyps, particularly staghorn Acropora (Ref. 9823).
Least Concern (LC); Date assessed:

22 February 2009

Ref. (120744)
harmless
Source and more info: www.fishbase.org. For personal, classroom, and other internal use only. Not for publication.
Page created by Jen, 05.08.02, php script by kbanasihan 06/09/2010 , last modified by
sortiz
, 10/02/17