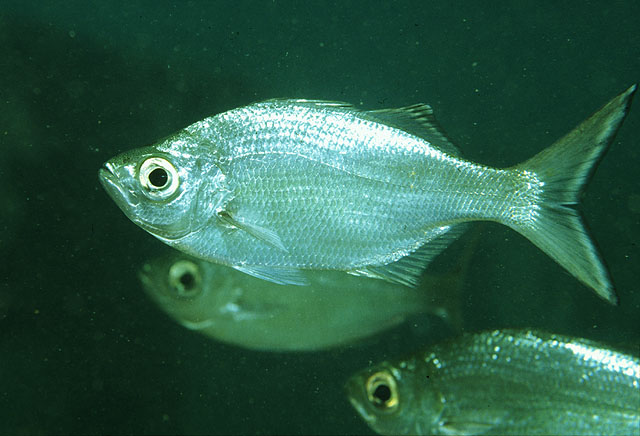 photo by Cook, D.C.

Kuhliidae (Aholeholes)
25 cm TL (male/unsexed)
benthopelagic; depth range 0 - 20 m, amphidromous
Pacific Ocean: widely distributed around oceanic islands.
Dorsal spines (total): 10-10; Dorsal soft rays (total): 11-12; Anal spines: 3-3; Anal soft rays: 11-12. Preorbital serrae 10-20; body depth 2.6-2.9 in SL; dorsal profile of head nearly straight; eye not very large, orbit diameter 3.0-3.45 in head length; caudal concavity 1.45-1.7 in head length; third anal fin spine longer than second; pelvic fin spine 2.3-2.9 in head length. Silvery with a coarse silver and black reticulum dorsally on head; posterior edge of caudal fin blackish (Ref. 41640).
Length at maturity about 18 cm. Taken with hook and line using bread or shrimp for bait (Ref. 44091). A native Hawaiian fish found in both marine and freshwater habitats. Feeds on fishes, invertebrates, and insects. Sr/Ca profiles from otoliths of juvenile and adult fish from fresh and salt water indicated that use of stream habitats by this species is facultative (Ref. 51353).
Not Evaluated (N.E.) Ref. (120744)
harmless
Source and more info: www.fishbase.org. For personal, classroom, and other internal use only. Not for publication.
Page created by Jen, 05.08.02, php script by kbanasihan 06/09/2010 , last modified by
sortiz
, 10/02/17