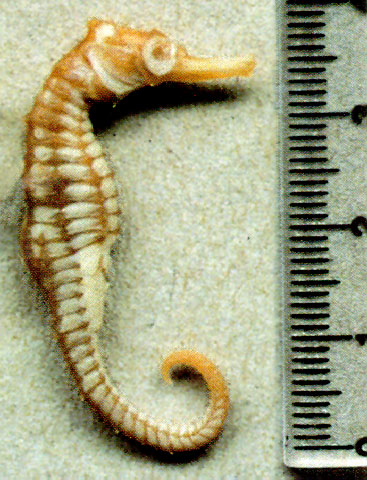 photo by Lourie, S.A.

Syngnathidae (Pipefishes and seahorses), subfamily: Hippocampinae
8 cm OT (male/unsexed)
demersal; depth range - 0 m, non-migratory
Western Pacific: Hawaii and questionably from Lord Howe Island and New Caledonia. International trade is monitored through a licensing system (CITES II, since 5.15.04).
Description: (based on 18 specimens): Adult height: 5.0-8.0cm. Rings: 11 + 37-38 (36-39). Snout length: 2.2-2.3 in head length. Dorsal fin rays: 17-18 covering 2-3+1-2 rings. Pectoral fin rays: 15 (13-16). Coronet: slightly raised with five tiny sharp points. Spines: small, but quite sharp; occasional spines expanded and flattened. Other distinctive characters: small, sharp, slightly hooked double eye and cheek spines; prominent, sharp, hook-like spine in front of coronet; two spines behind coronet. Color pattern: golden orange, red or pink; enlarged knobs brighter color; head, crown and snout orange brown; pouch paler than rest of body in males; some with blackish mottling.
Length type refers to Height (= from tip of coronet to the tip of straightened tail). Ovoviviparous (Ref. 205). The male carries the eggs in a brood pouch which is found under the tail (Ref. 205).
Least Concern (LC); Date assessed:

23 August 2016

Ref. (120744)
harmless
Source and more info: www.fishbase.org. For personal, classroom, and other internal use only. Not for publication.
Page created by Jen, 05.08.02, php script by kbanasihan 06/09/2010 , last modified by
sortiz
, 10/02/17