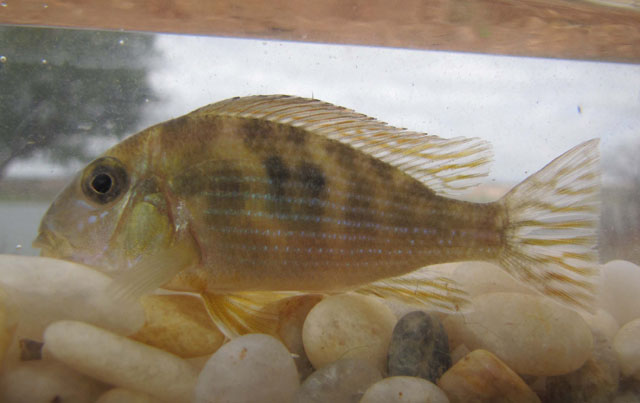 photo by Ramos, T.P.A.

Cichlidae (Cichlids), subfamily: Geophaginae
7.59 cm SL (male/unsexed)
benthopelagic; pH range: 6.5 - 7.6
South America: Rio Parnaiba drainage in Brazil.
Dorsal spines (total): 17-17; Dorsal soft rays (total): 9-11; Anal spines: 3-3; Anal soft rays: 7-8. Distinguished from all its congeners by the combination of the following characters: lack of a dark infraorbital stripe or black preopercular markings; a caudal fin with distinct longitudinal bands; only 30 to 31 scales in E1 row; and small size, maximum TL approximately 16 cm (Ref. 57445).
Inhabits bare sandy bottoms in brooks and small rivers with remarkably strong current during the rainy season. Also occurs frequently in pools and ponds with more or less stagnant water during the dry season and the period of low water (Ref. 57445). A specimen measuring 6.5 cm SL has 80% plant matter (mainly seeds), aquatic insect larvae, detritus and sand grains in its stomach and adjacent intestine (Ref. 57445).
Not Evaluated (N.E.) Ref. (120744)
harmless
Source and more info: www.fishbase.org. For personal, classroom, and other internal use only. Not for publication.
Page created by Jen, 05.08.02, php script by kbanasihan 06/09/2010 , last modified by
sortiz
, 10/02/17