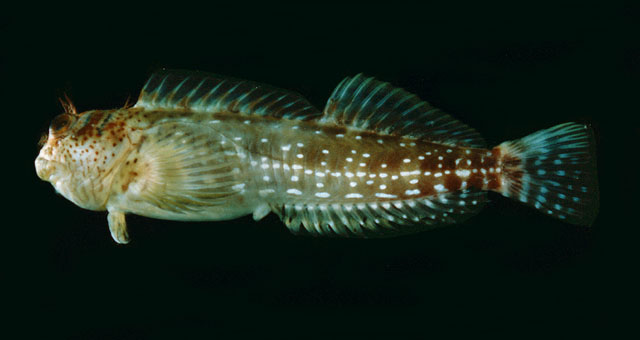 photo by Randall, J.E.

Blenniidae (Combtooth blennies), subfamily: Salariinae
5 cm SL (male/unsexed)
demersal; marine
Eastern Central Pacific: Marquesas Islands.
Dorsal spines (total): 13-13; Dorsal soft rays (total): 13-15; Anal spines: 2-2; Anal soft rays: 16-17. Single cirrus on each side of nape; 3-6 cirri on supraorbital tentacle; upper lip margin smooth medially, lateral 1/3 crenulate; body coloration light gray-brown, 6 short paired bars along sides of body, numerous, generally longitudinal, rows of white spots and dashes; head pale brown bearing 2 oblique black striations behind eye and brown band between, dorsally with numerous dark brown dots, and dark brown lines on ventral area. Dorsal spines XIII, 13-15 (rarely 13); anal rays usually 16; lateral line terminating below second and fourth dorsal soft rays; gill rakers 16-17 (Ref. 54980).
Oviparous. Eggs are demersal and adhesive (Ref. 205), and are attached to the substrate via a filamentous, adhesive pad or pedestal (Ref. 94114). Larvae are planktonic, often found in shallow, coastal waters (Ref. 94114).
Least Concern (LC); Date assessed:

25 March 2009

Ref. (124695)
harmless
Source and more info: www.fishbase.org. For personal, classroom, and other internal use only. Not for publication.
Page created by Jen, 05.08.02, php script by kbanasihan 06/09/2010 , last modified by
sortiz
, 10/02/17