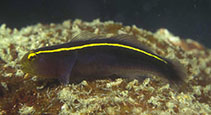 photo by Randall, J.E.

Family:
Gobiidae (Gobies), subfamily: Gobiinae
Max. size:
5 cm TL (male/unsexed)
Environment:
reef-associated; marine; depth range 7 - 27 m
Distribution:
Western Central Atlantic: southern Florida (including Gulf Coast) in USA and Bahamas to Curaçao and Panama.
Diagnosis:
Dorsal spines (total): 7-7; Dorsal soft rays (total): 11-12; Anal spines: 1-1; Anal soft rays: 10-10. Narrow pale yellow or white line extending from eye to caudal fin base (Ref. 26938). Black, shading to whitish ventrally (Ref. 13442).
Biology:
Always lives in association with tube sponges or massive sponges. Difficult to approach (Ref. 9710).
IUCN Red List Status:
Least Concern (LC); Date assessed:

24 March 2011

Ref. (126983)
Threat to humans:
harmless




Source and more info: www.fishbase.org. For personal, classroom, and other internal use only. Not for publication.