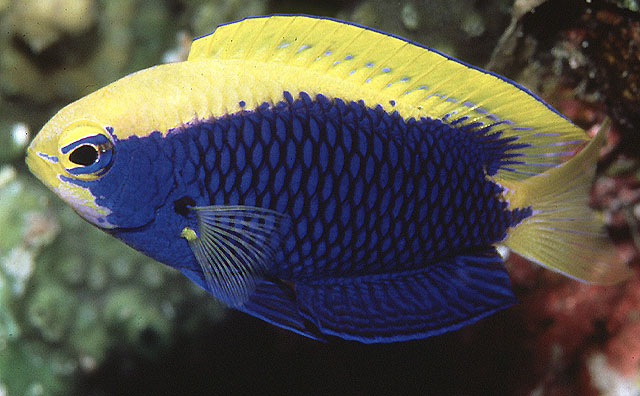 photo by Pyle, R.M.

Pomacentridae (Damselfishes), subfamily: Pomacentrinae
7 cm SL (male/unsexed)
reef-associated; depth range 20 - 60 m, non-migratory
Western Pacific: anti-equatorial, from the Ryukyu Islands to Taiwan and from Queensland, Australia to New Caledonia. Recently reported from Tonga (Ref. 53797).
Dorsal spines (total): 13-13; Dorsal soft rays (total): 14-15; Anal spines: 2-2; Anal soft rays: 15-17
Adults inhabit rocky outcrops and crevices that are frequently situated in sand channels on outer reef slopes. Common in deeper sections of the outer reef about 20 to 60 m in depth (Ref. 7247). Oviparous, distinct pairing during breeding (Ref. 205). Eggs are demersal and adhere to the substrate (Ref. 205). Males guard and aerate the eggs (Ref. 205). Diurnal species (Ref. 54980; 113699).
Not Evaluated (N.E.) Ref. (120744)
harmless
Source and more info: www.fishbase.org. For personal, classroom, and other internal use only. Not for publication.
Page created by Jen, 05.08.02, php script by kbanasihan 06/09/2010 , last modified by
sortiz
, 10/02/17