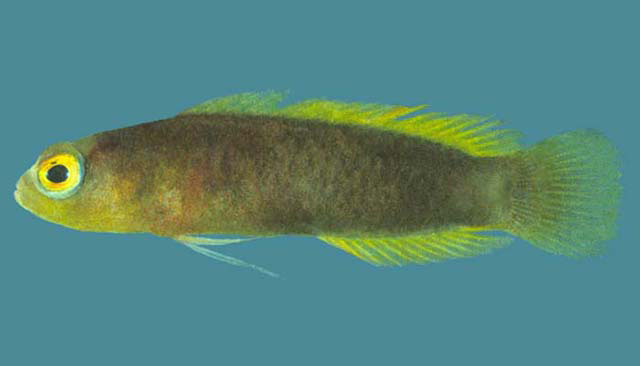 photo by Winterbottom, R.

Pseudochromidae (Dottybacks), subfamily: Pseudoplesiopinae
3.13 cm SL (male/unsexed)
reef-associated; depth range 0 - 40 m
Western Indian Ocean: known only from the Chagos Archipelago.
Dorsal spines (total): 2-2; Dorsal soft rays (total): 22-22; Anal spines: 3-3; Anal soft rays: 13-13. A species of Chlidichthys with the following combination of characters: predorsal scales extending to supratemporal commissure; suborbital pores 6-8, usually 7; and sensory canal of infraorbital 1 usually not continuous with adjacent infraorbital (infraorbital 3) (Ref. 57771).
Occurs in lagoons, drop-offs, reef-tops, reef flats and intertidal reefs (Ref. 57771).
Least Concern (LC); Date assessed:

20 July 2017

Ref. (123251)
harmless
Source and more info: www.fishbase.org. For personal, classroom, and other internal use only. Not for publication.
Page created by Jen, 05.08.02, php script by kbanasihan 06/09/2010 , last modified by
sortiz
, 10/02/17