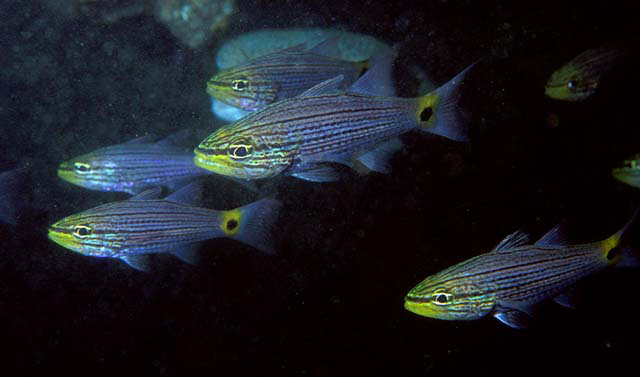 photo by Field, R.

Apogonidae (Cardinalfishes), subfamily: Apogoninae
15 cm TL (male/unsexed)
reef-associated; marine
Western Indian Ocean: Persian Gulf.
Color in life pale grayish brown with 10-13 dark brown to black stripes narrower than interspaces. Stripes usually alternating in width and intensity. A pupil-size black spot encircled by yellow area laterally on middle of caudal peduncle. Snout and top of head with yellow tinge. Distal part of first dorsal fin dark. Spine and first ray of second dorsal fin dusky. Other fins transparent (Ref 8525).
Not Evaluated (N.E.) Ref. (124695)
harmless
Source and more info: www.fishbase.org. For personal, classroom, and other internal use only. Not for publication.
Page created by Jen, 05.08.02, php script by kbanasihan 06/09/2010 , last modified by
sortiz
, 10/02/17