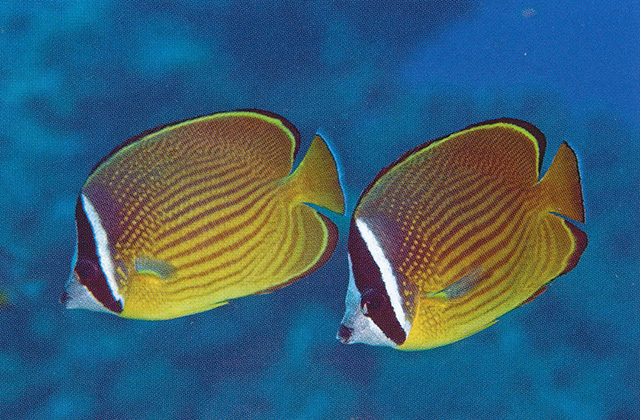 photo by Allen, G.R.

Chaetodontidae (Butterflyfishes)
20 cm TL (male/unsexed)
reef-associated; depth range 1 - 30 m, non-migratory
Western Pacific: Japan to Taiwan. Reported from the Maldives Islands (Ref. 4855).
Dorsal spines (total): 12-12; Dorsal soft rays (total): 23-24; Anal spines: 3-3; Anal soft rays: 18-19. Description: Body golden brown or brown, horizontal stripes dark brown, head with vertical stripes one broad white with anteriorly adjacent black through eye. Tip of caudal fin is transparent (Ref. 4855). Snout length 2.7-3.4 in HL. Body depth 1.4-1.7 in SL (Ref. 90102).
Inhabit rocky reefs with algae and coral (Ref. 9710). Solitary or in groups (Ref. 9710). Feed on benthic invertebrates (Ref. 9710). Oviparous (Ref. 205). Form pairs during breeding (Ref. 205).
Least Concern (LC); Date assessed:

08 October 2009

Ref. (119314)
harmless
Source and more info: www.fishbase.org. For personal, classroom, and other internal use only. Not for publication.
Page created by Jen, 05.08.02, php script by kbanasihan 06/09/2010 , last modified by
sortiz
, 10/02/17