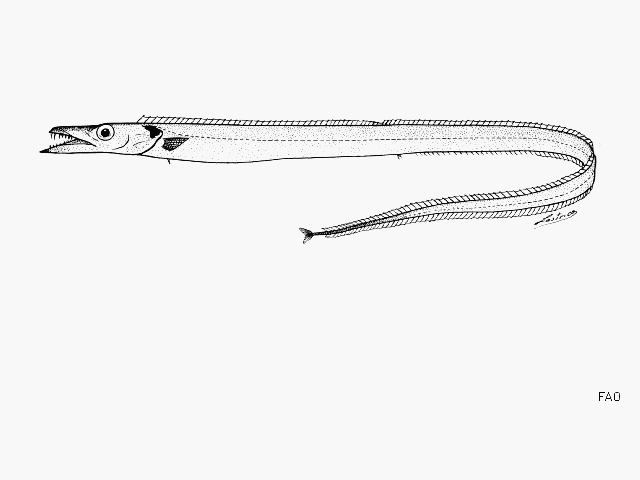 photo by FAO

Trichiuridae (Cutlassfishes), subfamily: Aphanopodinae
112 cm SL (male/unsexed)
benthopelagic; depth range 100 - 1000 m
North Pacific: off Japan, Ryukyu Islands, Kyushu-Palau Ridge, British Columbia, Canada and California, USA.
Dorsal spines (total): 44-46; Dorsal soft rays (total): 99-104; Anal spines: 2-2; Anal soft rays: 90-94; Vertebrae: 149-153. Body silvery, jaws and opercle blackish. The inside of the mouth and gill cavities black.
Occurs from 305 m (depth of specimens hooked off Manazuru, Japan) and deeper, sometimes migrating to the surface. Juveniles mesopelagic from 100 to 500 (1000) m depth.
Not Evaluated (N.E.) Ref. (120744)
harmless
Source and more info: www.fishbase.org. For personal, classroom, and other internal use only. Not for publication.
Page created by Jen, 05.08.02, php script by kbanasihan 06/09/2010 , last modified by
sortiz
, 10/02/17