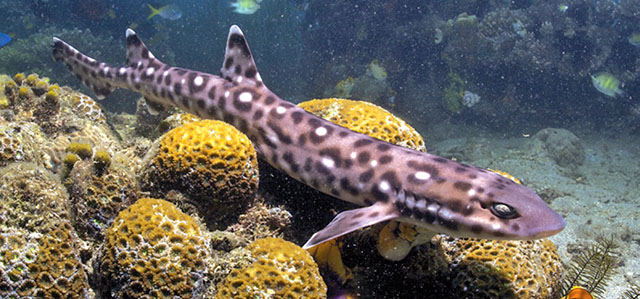 photo by Erdmann, M.V.

Scyliorhinidae (Cat sharks), subfamily: Atelomycterinae
50.1 cm TL (male/unsexed); 50.8 cm TL (female)
reef-associated; marine; depth range 3 - 62 m
Western Pacific: Indonesia.
This medium-sized species (to at least 508 mm TL) is distinguished by the following set of characters: relatively short snout, 3.4-3.8% TL; head length 17.5-17.9% TL; precaudal length 76.6-79.1% TL; interdorsal space 13.4-13.7% TL; the distance between pectoral and pelvic fins and pelvic to anal fins about equal, ratio of pectoral-pelvic and pelvic-anal 1.01-1.02; anal-fin length to anal-fin base ratio 1.29; moderately falcate dorsal fins with posterior margins sloping anteroventrally from fin apices; strongly tricuspid denticles with an elongate medial cusp; claspers of adult males are relatively short, the outer length 9% TL, clasper base width 15.5% of clasper outer length, not stubby, not tapering from base to tip; clasper glans extend about half of clasper outer length; cover rhipidion is relatively narrow; rhipidion moderately large, partly concealed by cover rhipidion and exorhipidion; pseudosiphon about half length of cover rhipidion; the clasper tip is narrow and bluntly pointed; colour pattern with dark brown to black and white spots and blotches, and faint dark brown saddles; white spots are surrounded by 2-4 dark spots; dark spots are scattered along most of the ventral surface (less distinct in male); a distinct white stripe run through upper third of gill slits (Ref. 100516).
Observed by dive operators in North Sulawesi and Ambon on night dives at depths of 3 to 15 m (Ref. 100516).
Least Concern (LC); Date assessed:

20 May 2020

Ref. (124695)
harmless
Source and more info: www.fishbase.org. For personal, classroom, and other internal use only. Not for publication.
Page created by Jen, 05.08.02, php script by kbanasihan 06/09/2010 , last modified by
sortiz
, 10/02/17