Table 1
: the species is currently present in 5 of them (endemic, native, introduced);
Table 2
: possible in 0 of them (stray, questionable);
Table 3
: absent from 0 of them (extirpated, not established, misidentification, error).
Table 4
: all reports listed together.
Distribution: Oceania: Australia (including Tasmania), Lord Howe Island, New Zealand and the Chatham Islands. South America: Ranges from along the Chilean side of the Andes near Valparaiso to the southern extremity of the island chain southeast of Tierra del Fuego. Also on the eastern side of the Andes in Argentina in isolated lakes (Meliquina, Traful, Nahuel Huapi, Gutierrez, and Pellegrini) which drain into the Atlantic Ocean via the Negro River. It occurs on Falkland Islands.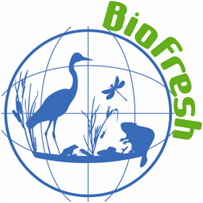 The map in this page was supported by BioFresh that has received funding from the
European Union's Seventh Programme for research, technological development and demonstration under grant agreement No 226874