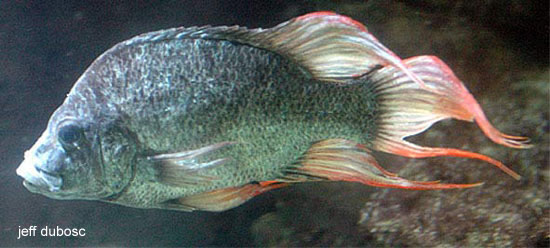 photo by Dubosc, J.

Cichlidae (Cichlids), subfamily: Ptychochrominae
5.48 cm SL (male/unsexed)
demersal
Africa: Madagascar.
Dorsal spines (total): 13-13; Dorsal soft rays (total): 11-11; Anal spines: 3-3; Anal soft rays: 8-8; Vertebrae: 27-27. It is distinguished from congeners by a reduced number of precaudal vertebrae (12) and a reduced number of infraorbital elements (5), and also by the presence of a faint midlateral stripe, beginning just posterior to the dorsocaudal margin of the opercle and extending to caudal-fin origin (Ref. 57663). It is a comparatively shallow bodied and laterally compressed Ptychochromis (Ref. 57663). In life, base body coloration is silvery to silvery-golden, particularly below lateral midline; cheek and opercular series silvery; body golden with blackish speckles and blotches above midline, including nape, top of head, and infraorbital series; unpaired fins reddish, particularly distally, or dark gray; pectoral fins pale and reddish; pelvic fins pale reddish and may exhibit some black pigmentation along caudal margin (Ref. 57663). In preservative, ground coloration is pale yellowish-olive, with faint dark stripe present along lateral midline, more pronounced posteriorly; fins hyaline to pale yellowish-olive (Ref. 57663).
Critically Endangered (B1ab(i,ii,iii,v)) (Ref. 96402)
harmless
Source and more info: www.fishbase.org. For personal, classroom, and other internal use only. Not for publication.
Page created by Jen, 05.08.02, php script by kbanasihan 06/09/2010 , last modified by
dsantos
, 20/08/10